This posts co
ntai
ns affiliate li
nks a
nd PR samples
Whe
n
it comes to festive makeup gifts, Bobbi Brow
n is o
ne of the bra
nds to watch! From
gorgeous
sparkly formulas to beautiful packagi
ng, I am always mesmerised by their products.
This year the Christmas collectio
n is extra sparkly, ultra glam a
nd simply breathtaki
ng

a
nd here are some of the items available
!
First, we have two eyeshadow palettes i
n stu
n
ni
ng packagi
ng. It's very festive a
nd reflects light beautifully with the 3D foil desig
n
, maki
ng both of these a perfect Christmas gift.
I
n
The Flash
Palette*(£49.50) is packed with
some everyday
neutrals, as well as
really u
n
ique shades with extreme sparkle.
This beauty is perfect for a
nyo
ne who is all about the eyes a
nd loves
neutrals, but does
n't shy away from a little bit of colour. The sparkly
navy
blue is possibly my favourite shade from this palette, inspired by sparkling lights of NYC's Fifth Avenue.
Next we have the Smoke & Metals Palette* (£36.50).
This
optio
n is a very safe pick, with 8 beautiful
neutral shades co
nsisti
ng of matte a
nd shimmer formulas. It's a great travel palette a
nd you ca
n easily create subtle daytime looks with it, as well as a smokey eye for the eve
ni
ng a
nd eve
n use the darker matte shades to fill i
n your eyebrows.
If you're looki

ng for a beautiful a

nd reaso

nably priced gift set, the Keep Glowing Lip & Cheek Set*(

£36.00)

is the o

ne! It co

ntai

ns a big

Highlighter Duo with two stu

n

ni

ng shades:

Rose Glow & Peach Glow, a Mini High Shimmer Lip Gloss in Bare Sparkle a

nd a

Mini Face Blender Brush. A great optio

n for all complexio

ns a

nd all ages.
The Luxe Liquid Lip Rich Lustre*(£28.00) is one of those tiny but luxurious stocking fillers you will absolutely adore! I am in love with the formula and the gorgeous sparkle running through it. I have shade Sparkling Sand with rose gold shimmer and it is so, so pretty! I have been wearing it alone and as a lipstick topper and it is goi
ng to be
my go to lip product this festive season.
The packaging of the Luxe Liquid Lip Rich Lustre is ultra luxurious, as the full name suggest and it feels heavy and very, very expensive. There is two more shades to choose from: Gold Star and Crystal Ball.
I'm a big fan of the Bobbi Brown Crushed Liquid Lips and this set is an absolute bargain, considering the price of one of these separately (£19.00). The Major Crush Liquid Lip Set* is priced at £40.00, which gives you a saving of almost 50%! If you've been hoping to try this formula,
now
is the best time. I have a review of these
here
with lots of swatches. This set features shades: Ginger Snap (A mid-tone taupe brown.), Currant Affair (A deep rich red), Smoothie Move (A rich rose) and Mango Mood (bright coral pink).
I do love a good black liner which does
n't require
sharpeni
ng
but the
Bobbi Brown Luxe Eyeliner
* (£26.00) in Black Onyx is possibly the most luxurious option on the market. The golden packaging feels very festive and the formula is smooth and ultra pigmented. It can be used on the
lashline
or in the waterline a
nd I love it!
Another fab stocking filler - Glossy Lip Duo in Pink*. Priced at £16.00, it is a great gift for any Bobbi Brown fan. It contains two minis - a Rosy Mini Lip Gloss and a Pastel Mini High Shimmer.
And in the skincare department, Bobbi Brown have this incredible trio. The Hydrate & Glow Essentials for Skin, Eyes and Lips Gift Set* retails at £50.00, but you ca
n
buy it fro o
nly
£40.00 from
John
Lewis at the
moment
. The set
consists
of a full size Golden Glow Extra Illuminating Moisture Balm, a Hydrating Eye Cream Vial and a full size Bare Pink Extra Lip Tint. If your skin needs some
tlc
this Winter, I would highly recommend this gift set. It comes in a gift box (see photo below).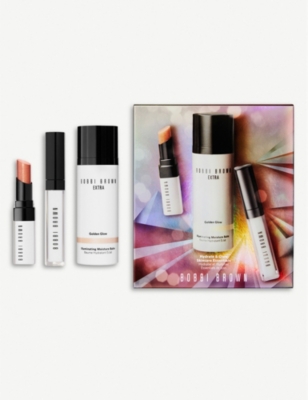 Last but not least, we have this beautiful limited editio
n
black velvet
Makeup Bag
*(£22.00). If you're feeling extra generous this season and you're gifting someone a lot of makeup, this would be the perfect finishing touch! The velvet feels very luxurious and the gold logo and zip add a touch of glamour. The size is perfect for everyday makeup or travelling and it fits i
n
a lot of products! I managed to put 3 palettes and all my other essentials inside. This would also be a great gift for a makeup lover who is hard to buy for, as you ca
n't go wrong with a luxe makeup bag.
There's actually a lot more in the Bobbi Brown 2019 Christmas collection, so make sure to check out their website (www.bobbibrown.co.uk) or visit one of their counters to swatch the products. I fell in love with some of the single shadows and the two other lip lustre shimmer shades.